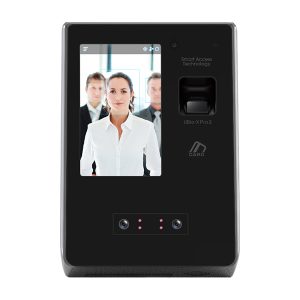 High-End Face & Fingerprint Recognition Terminal
UBio-X Pro2 is a Contactless Face Recognition System.
UBio-X Pro 2 is multi-biometric identification Time Attendance and Access control, integrated with high speed processor. It provide liveness detection, anti-spoofing attacks against photo, video and 3D masks. It also provide easy face enrollment using camera or phone picture. Come with high ambient light conditions, it can achieve up to 25,000 lx of operating illuminance which in turn, brings all-round confidence regardless of lighting conditions. The device is able to detect face up to a 3M distance, and has a high speed face and fingerprint matching.
Liveness Detection
Anti-Spoofing Attacks Against Photos, Video & 3D Masks.
High Ambient Light Conditions
Visible Light Technology
Patented Fake Fingerprint Detection
Face Recognition at a Distance up to 3m
High Speed Face and Fingerprint Matching
Easy Face Enrollment - Use Camera or Phone Picture