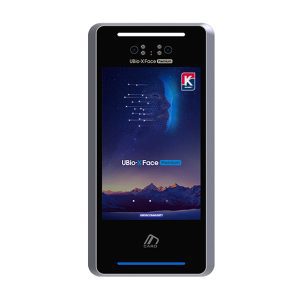 Walk-Through method 8" Premium Face Recognition Terminal
UBio-X Face Premium provides slim and compact size with 8" LCD screen and walk-through face recognition.
By grafting the UBio-X FQR authentication sensor, various authentication methods such as face, fingerprint, card, mobile key, QR code, and card have been implemented. It is able to select and use the authentication method according to the customer's needs. According to contactless solution such as mask detection (3 levels), thermal detection, contactless visitor & event management and remote user registration can avoid infectious. Also, It is possible to use by integrating with a variety of systems like Video surveillance, access control and Time & Attendance management. All biometric information is protected based on a technology that encrypts and saves as the minutia point used in the algorithm engine without saving the original image.
Mask Detection
Integrated Security and Data Encryption High Performance Device
Equipped with Latest Face Recognition Algorithm
Easy Face Enrollment
Support multiple Authentication Method
Integrated Security Solution