FirstLane
The FirstLane swing door speed gate offers unbeatable value for money whilst ensuring safety and quality have not been compromised. Thanks to its black painted steel housing, combined with the elegance of glass, FirstLane speed gate meets stylish and architectural trends. FirstLane provides a high bi-directional flow and safety without compromise. Its exclusive DIRAS detection system ensures precise user tracking for maximum safety and security. Even more intuitive and easy to use thanks to the new dynamic LED lighting, FirstLane combines high throughput with state-of-the-art detection.
Main benefits:
Automation of pedestrian access control
Restricts access to secured zones
Low cost of ownership
Employee and visitor Entry/Exit tracking
Reduced need for manned entrance
Easy to install
Low energy consumption for a low carbon footprint

AESTHETICS
Modern and stylish look
Aesthetic top cover in 8mm thick monolithic tempered glass with black screen printing
DYNAMIC LIGHTING
Perfectly suited to any type of architecture
FirstLane has won the prestigious Red Dot Design Award – Product Design 2021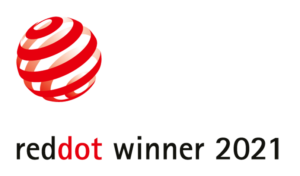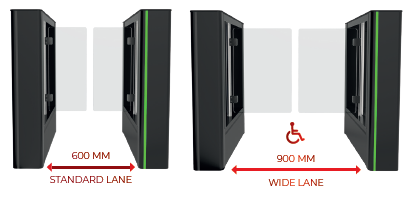 USER EXPERIENCE
FUNCTION PICTOGRAMS for intuitive use
 High throughput, up to 60 users per minute
Fast opening and closing of the obstacles
Bi-directional movement
Two different passage widths available (600 mm and 900 mm for people with reduced mobility)
SECURITY
BEST IN CLASS FOR FLOW AND ELECTRONIC DETECTION PROPRIETARY DIRAS DETECTION SYSTEM
High-density matrix of infrared beams (every 22,5 mm) follows users' progression through the gate.
Dynamic and predictive (size, position, direction) algorithms ensuring top of the class performance for fraud detection : tailgating, piggybacking, trolleys, children, u-turn, crossing, multiple entries…
MULTIPLE INTEGRATION CAPABILITIES (OPTIONAL): the cabinet allows to integrate authentification solutions including:
RFID, QRcode and barcodes readers
Biometric devices
SAFETY
PREVENTS FINGER ENTRAPMENT and other impacts
ELECTRO-MECHANICAL DRIVE UNITS including:
Controller for progressive accelerations and decelerations of the obstacles, for smooth movement and enhanced user safety
Geared electromagnetic brake for locking of obstacles in the event of forced entry attempts
Sensor monitoring the obstacle position EUROPEAN STANDARD SAFETY EN 16005 COMPLIANT: requirements regarding the strength of trapping and impact energy
EMERGENCY EXIT CERTIFIED, EN13637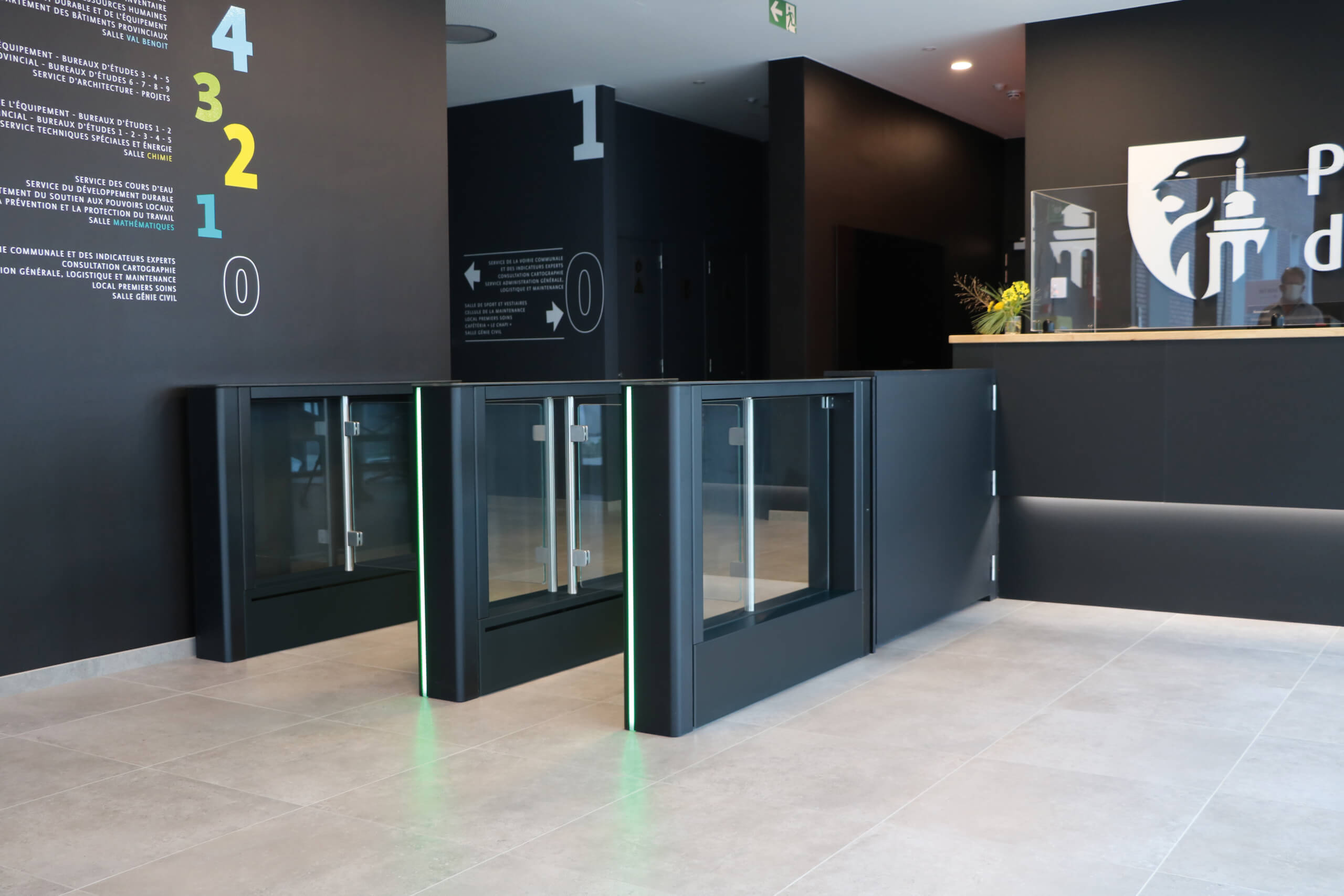 CONNECTIVITY
TCP/IP COMMUNICATION enabled by embedded software allowing real-time monitoring and equipment configuration locally or remotely via a simple web browser as well as a diagnostic tool for complete maintenance.
INFORMATION TRANSFER BY:
XML-RPC interface Double Ethernet (IPV4 and IPV6)
CAN bus internal parts control and monitor and third party external peripherals controllable via serial communication
Dry contacts (passage authorised, passage information, fraud, technical default…)
SURPEVISION (OPTIONAL)
Smart&Slim monitoring panel for remote management of the turnstiles. It is a flexible command centre and allows for visualisation, control and consultation.
SmartTouch surveillance interface. Simple handle egant solution for managing one or two access control equipment areas remotely, via an Ethernet network.
ROBUST
STEEL FRAME
Robust and stable
RoHS anti-corrosion zinc plating treatment
Housing is in painted steel and AISI 304L stainless steel
SIDE PANELS (OPTIONAL)
Clear 8 mm thick tempered monolithic glass
OBSTACLES
Clear 10 mm thick tempered monolithic glass obstacles
GREAT RELIABILITY
5.000.000 MCBF (Mean Cycles Between Failures)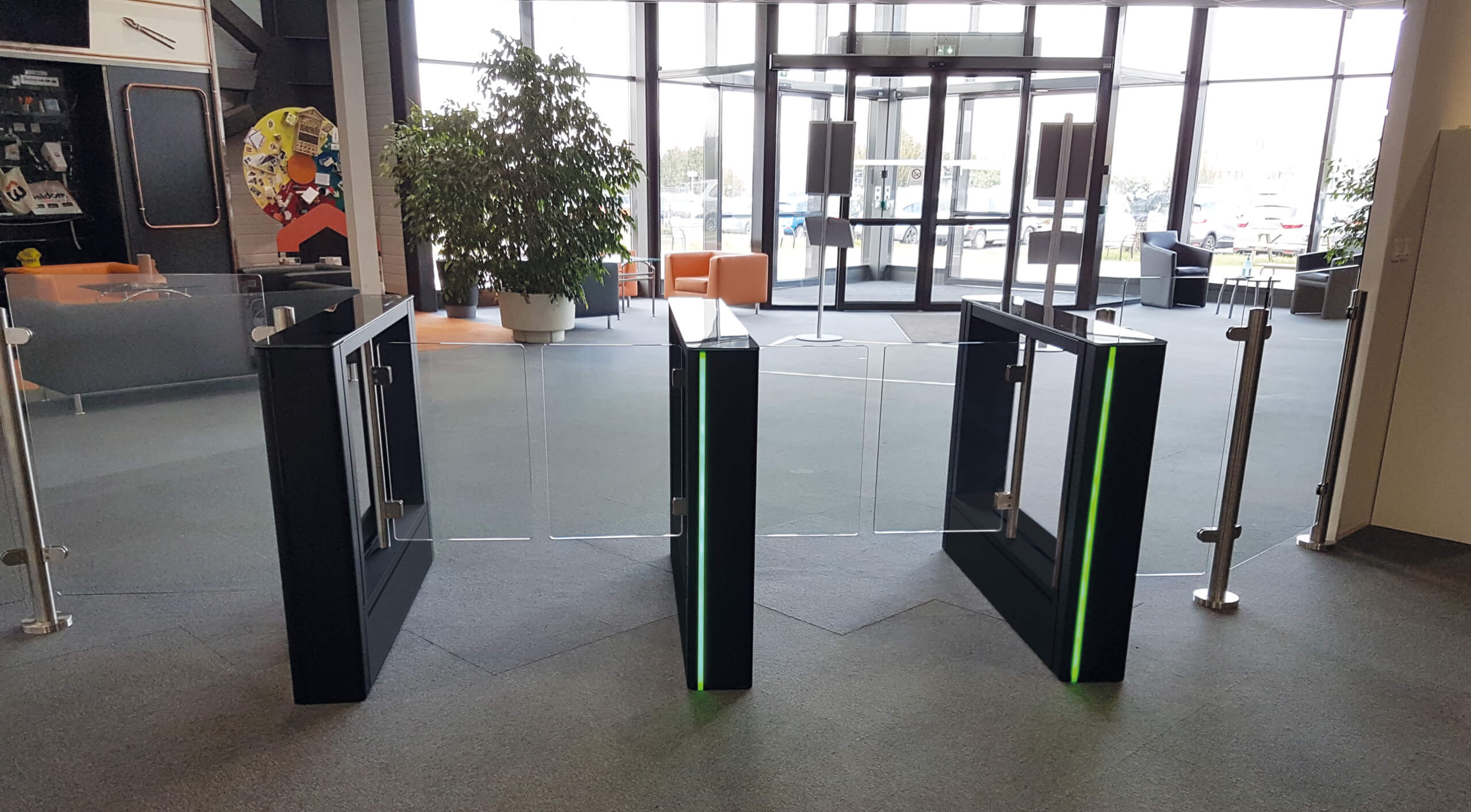 Applications :
Office buildings, head offices and administrative sites
Schools, universities and colleges
Gyms and fitness centres
Government buildings and institutions
You may also like…
The new SMARTLANE speed gate is built on the fundamentals that have made its predecessor so successful over the years. The iconic and easily recognisable style of the SmartLane optical turnstile has been updated to meet the latest architectural trends. The high performance and robustness that are part of the SmartLane's DNA have naturally been retained and improved.
Thanks to DIRAS™ (Automatic Systems Infrared Detection) technology and its predictive algorithms, the SmartLane speed lane offers the best-in-class detection level currently on the market. The lower cells also provide better detection with greater gate reactiveness. The SmartLane turnstile is also the best-in-class for safety, with features including entrapment safety protection via a curtain of cross cells and extra detection on the high glass doors; coupled by low level cells for child and trolley detection.
SmartLane is available in multiple finishes and configurations including "with or without" extensions and "open or closed", allowing the integration of all types of identification systems. Several finish options are available including stainless steel, painted stainless steel, bronze or gold finish, all designed to cater for different architectural design trends.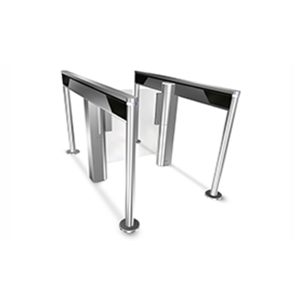 The SlimLane speed gate is designed to secure access to your building and control the flow of pedestrian traffic, as well as offer an elegant design and high reliability. With its fast swing obstacles, SlimLane turnstile combines a high bidirectional flow of passage with high levels of security, without compromising user safety. Its exclusive DIRAS® detection system allows precise control of users for maximum protection and safety. In addition, its modularity allows a wide range of configurations, obstacle heights and passage widths.