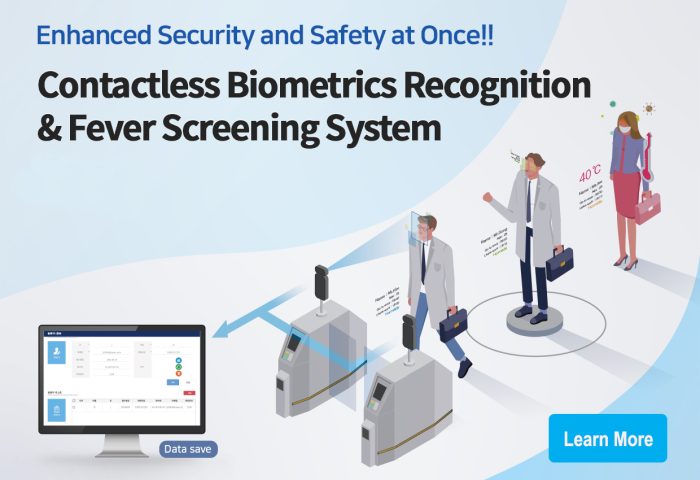 BIOMETRICS TECHNOLOGIES AND COVID-19 PANDEMIC
The COVID-19 pandemic and all its implications has challenged the biometrics industry to a considerable extent.The new normal will look much different for many businesses.
Biometrics will also prominently among the solutions leveraged by organizations, as they look to mitigate the spread of COVID-19. One of the biggest trends within many organizations and public facilities in the wake of COVID-19 has been the use of thermal imaging for fever detection. Many biometric firms are also now looking at ways to integrate these cameras into their solutions to create a comprehensive offering for access control and coronavirus mitigation.
Before the COVID-19 Pandemic, the market was already looking for contactless biometrics such as Iris recognition and now will further increase that demand. During this time, we see a majority of customers looking for biometrics that is non-contact, accurate and frictionless, especially for those that have yet to implement biometric system in their organizations.
Existing customers are also looking at replacing their fingerprint and pin access control system to contactless biometric with temperature screening functions. Contactless biometrics are going to play a crucial role in future access control applications. The adoption rate of biometrics in the enterprise market are moving more quickly to adopt touchless access products in the wake of COVID-19, in order to avoid putting the health and safety of their employees at risk.
Biometric and thermal scanning technology has been used in other applications, but the COVID-19 pandemic is propelling adoption by the travel industry in order to streamline traffic and restore confidence in safe air travel. The integration of several important technologies into a seamless process is very important. Biometric Systems has enabled a lasting improvement to the travel experience by offering fast-moving contactless checkpoints for travellers.
COVID-19 will put this more into perspective where cost is not likely to be the main concern, but it will be all about functionality and how to create a safer environment. Although contactless biometrics will likely be the preferred modality for access control in the future, other technologies, such as fingerprint, vein pattern recognition and other solutions that rely on physical contact with a reader will not go completely away because of the lower cost and other functions.